The Twentieth Anniversary Season Concert for Echo Women's Choir happened this past Sunday. I had the pleasure and privilege of guest conducting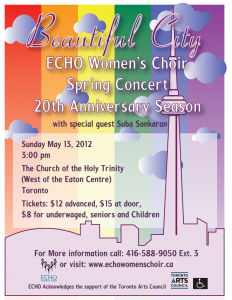 a substantial portion of the concert. I don't have any video or audio–yet–so you'll have to take my word for it: these 80 women sounded wonderful.
The program was pretty eclectic: some gospel, some worker/protest songs, an Arabic love song, a few pieces from the Republic of Georgia. The central piece was a composition called 'Sun' (conducted by my colleague Alan Gasser), with text by Eliot Rose and music by William Westcott–this full-on, massive sounding,insane piano-accompanying, hard-to-sing vocal yearning for spring. I'm not sure I've ever heard that much sound in Holy Trinity Church before. It was glorious.
Echo is a community choir, meaning no auditions to get in, just have to wait patiently for your name to come up on the wait list–maybe about a year. If choral singing is your thing, or maybe your thing, there are numerous choirs in the GTA for every singer and for every taste. A good starting place  are the Canary Pages of Wholenote magazine that come out in May. You can find the pages in stands around the GTA, or browse their online map of choral groups. I got the pleasure of writing the editorial for this year's edition, too.
But for me, Echo has been an amazing experience, and I've been blessed to be a part of their singing work.