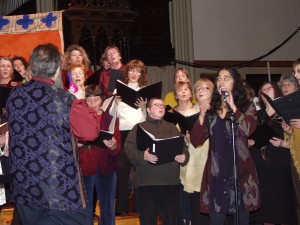 I was the guest editor for Whole Note magazine's May 2012 edition. This Toronto area-based music magazine is known for releasing its 'Canary Pages' in May– a listing of choirs and other singing opportunities in the Greater Toronto Area for anyone who's looking to join a choir, or perhaps looking for a change. I was asked to write about choirs and community for this year's edition(you can read it here).
I also had some long, wonderful discussions with two Toronto-based conductors: Isabel Bernaus, conductor of the Jubilate Singers and Common Thread Community Choir; and Becca Whitla, conductor of Echo Women's Choir and Holy Trinity Church Choir. I quote from our conversations a bit in the editorial, but they offered some really great advice for people looking to join a choir that wasn't in the editorial.
So here's the advice:
I asked both Becca and Isabel what kinds of advice they'd offer novice and advanced choristers, especially given the complexity of many of the issues surrounding community and musical excellence. Their advice? Take some time to do two kinds of research: research yourself, and research the choirs.
First, figure out what you want: what kinds of music do you want to sing? How often can you rehearse? How much commitment do you want to make? How far will you travel? Most importantly, what kind of atmosphere are you looking for: a professional, goal-oriented and music-focused environment, or an opportunity to meet people and sing among friends? Or something that balances both?
Once you've figured out these things for yourself, do a little research on the choirs listed in the Canary Pages and elsewhere to find good matches. Even then, however, it might be difficult to know if you and the choir you're eyeing really are good fits. Both Bernaus and Whitla suggest attending a rehearsal and/or performances. "Many choirs have open rehearsals that you can attend," Whitla suggests, "and if not, see the choir in performance." Bernaus agrees, even encouraging potential choristers to contact the conductor (try to find a non-pressured moment—like AFTER a concert…) or contacting the member coordinator. They might welcome you to sit in on a rehearsal, or at least describe what the choir is like so you can make an informed choice for yourself.
The same advice holds whether you are brand new to Toronto or to choral singing, or if you're looking for a change from your current choral engagements. If you are more seasoned, you can be more targeted, more strategic in your approach. You may perhaps already know some friends or colleagues that have worked in other choral settings, so you can get an 'insider's perspective' on the repertoire, the rehearsal practices, the performance styles, and the feel of the choral space to decide it it's a good fit for you.
In fact, choral singing overall is only one of many kinds of singing practices, which of course represent one of many kinds of music-making. The Canary Pages are a great resource, but they are not definitive. Many group singing activities happen beyond these pages. The volunteer-run World Harmony Folk web site (www.worldharmonyfolk.org) and newsletter, for example, promotes community singing classes, vacations, workshops, and yes, even choirs, from around the world.