This Saturday night, Echo Women's Choir and Mariposa in the Schools are holding a
joint fundraiser at Holy Trinity Church. Tickets are $35, and come with free wine tasting,
plus incredible music from the likes of Gurpreet Chana (The Tabla Guy) and Melanie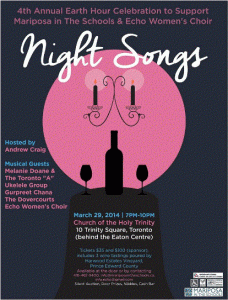 Doane, as well as Echo, and I'm going to conduct one of the songs and sing with them.
The whole evening is hosted by Andrew Craig.
Echo Women's Choir is an 80-voice non-auditioned women's choir based in Toronto that sings an incredible range of repertoire. Mariposa in the Schools is an amazing organization
that introduces the world's oral cultural traditions to Ontario classrooms.
I must confess, one of the most magical things about this particular concert is that most
of it takes place in the dark, with only some candle light. In the magificant acoustic space of Holy Trinity Church (next to the magnificently busy Eaton Centre downtown),
I honestly can't think of a better way to spend Earth Hour.
You can buy tickets at the door, and details are in the poster here.
And I've posted this before, but it's so beautiful, that it deserves a second viewing. This is Gurpreet Chana playing his composition 'Gratitude' at the Earth Hour concert in 2012.