5th Annual Earth Hour Celebration and Fundraiser for Echo Women's Choir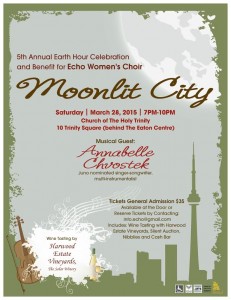 Featuring Annabelle Chvostek
Saturday, March 28, 2015 7 pm
Church of the Holy Trinity, 10 Trinity Square (by Toronto Eaton Centre)
Tickets: $35
This Saturday evening, Echo Women's Choir is hosting a fundraiser concert that also celebrates Earth Hour. Here are three reasons to join us:
1) The concert is lit by candles in the 150-year old Holy Trinity Church in downtown Toronto. This is an utterly magical setting to listen to Echo Women's Choir sing pieces by Malcolm Daglish, Tom Chapin, and others in honour of Earth Hour.
2) free wine tastings and food
3) Our very special guest artist is Annabelle Chvostek, juno-nominated singer-songwriter and multi-instrumentalist, former member of the Wailin' Jennies, and an incredible performer. I love her politics and I love her music. I think you will, too.
Please join us!
A little taste of Annabelle's music, to tide you over until Saturday: